Become a dealer
Western Power Sports, a wholesaler/distributor of power sports parts and accessories, sells to dealers only. If you are a dealer and want an account with us, you are in the right place.
To become an WPS dealer, please download a dealer application, complete it, and return it to us. Adobe Reader 5.0 or higher required.
Completed applications can be faxed to (208) 375-8901 or emailed to dealeraccounts@wps-inc.com.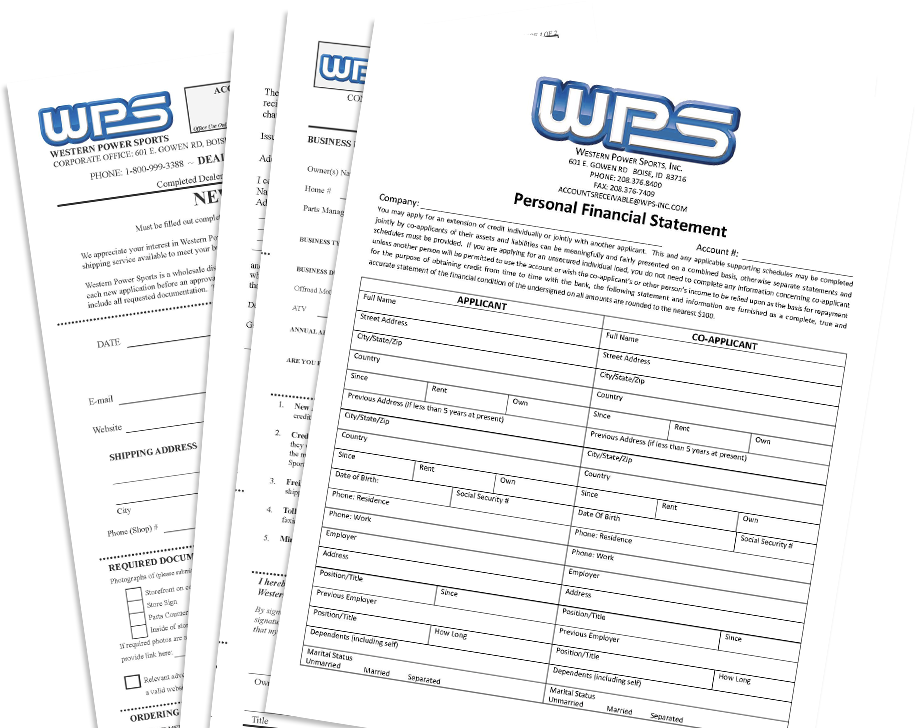 Brands Galore
Join our dealer network and put over 956 brands at your fingertips.
100%

208 PRODUCTIONS

2 COOL

4-PAWS

509

661

ABUS

AC

ACCEL

ACCUMATE

ACCUTRONIX

ACERBIS

ACS

ADAPTIV

AFFORDABLE DISPLAY

AIRHAWK

AIRHEAD

AIRPRO FORK

AJ ALL TERRAIN

ALIENATION

ALL BALLS

ALL RITE

ALLSPORT

ALPINESTARS

ALTICITY

ALTIMATE

ALTITUDE MFG

ALTO

AMANET

A-ME

AMER. APPAREL

AMERICAN MFG

AMK

AMMCO

AMP

AMS

ANARCHY

ANCRA

ANTIGRAVITY

AO COOLERS

APM

AQUACART

AQUA-HOT

AQUATIC AV

ARC

ARCTICFX

ARGUS

ARISUN

ARNOTT

ARROWHEAD

ASTERISK

ATHENA

ATLANTIS

ATTITUDE IND.

ATV TEK

AUTOLITE

AVIAN

AVON

AWC

AXIA

BADLANDS

BAFFIN

BAGGERNATION

BAGGER WERX

BAKER

BALCRANK

BAM FILM

BANKS

BATTERY TENDER

BAUER

BAZZAZ

BBR

BDX

BEARD

BEER OPTICS

BEL-RAY

BETTER BOARDS

BFGOODRICH

BIG BIKE PARTS

BIG SKY

BIKE SPIRITS

BILLET EQUIP

BILLS

BITEHARDER

BLACK CROWN

BLAC-RAC

BLASTER

BLENDZALL

BLITZ

BLOWSION

BLU

BLUE JOB

BLUE MARBLE

BLUHM

BMP

BOBSTER

BODY GLOVE WETSUIT

BOLT

BOMBER

BOMBSHELL

BOONDOCKER

BOSS AUDIO

BOSS NOSS

BOX

BOYESEN

BRAAAP FILMS

BRACKETRON

BRAKING

BRASS BALLS

BRODER

BRONCO

BTL DESIGNS

BUBBA ROPES

BUDDY TOW

BULLDOG

BULLY DOG

BURLY BRAND

BUSS

BUTLER BROTHERS

BUTTY BUDDY

BYKAS

C&A

CALIBER

CALIFORNIA HEAT

CAMELBAK

CAMSO

CANDLEPOWER

CANYON DANCER

CARBON TECH

CARDO

CARLISLE

CASTROL

CAT CRAP

CDS

CEET

CFR

CF WORKS

CHAMPION

CHASE

CHASE HARPER

CHRIS PRODUCTS

CIPA

CIRIUS

CIXI HONGKANG

CLASSIC ACC.

CLEAR

CLYMER

COLDWAVE

COLEMAN

COLONY MACHINE

COMET

COMETIC

COMP. CHEM.

COMPUFIRE

COMP. WERKES

COM. SEWING

CONDOR

CONTOUR

COOL-N-LUBE

COUNTERACT

COUNTRY ENT.

COVERCRAFT

CP

CRAIGGERBUILT

CRAMPBUSTER

CRUPI

CRUZ TOOLS

CST

CTEK

CURVE

CUSTOMACCES

CUSTOM ENGRAVING

CV4

CVTECH-AAB

CY-CHROME

CYCLE COUNTRY

CYCLE ELECTRIC

CYCLE PRO

CYCLE SOUNDS

CYCLE SPRINGS

CYCLE-TECH

CYCLE WORKS

CYLINDER WORKS

CYRON

DANNY GRAY

DAVE CRAIG FILM

DAYCO

DAYTONA

D-COR

DEAD BOLT

DEI

DELKRON

DEUTER

DEVIANT RACE PARTS

DEVIANT SLED

DEVOL

DFG

DFR

DG PERFORMANCE

DIAG4 BIKE

DIAMOND CHAIN

DIAMOND LED

D.I.D

DIRT DIGITS

DIRT TRICKS

DIST FULFILLMENT SERVICES

DK CUSTOM PRODUCTS

DMP

DNA

DOBECK

DOGREE FASHIONS

DOWCO

DRAGON

DRAGONFLY

DRAW-TITE

DRAYKO

DRC

DR.D

DRIVEN

DRYGUY

DSG

DSS

DT-1

DUBYA

DUNLOP

DUPONT

DURABLUE

DUX

DWT

DYNATEK

DYNOJET

E13

Eagle Grit

EASYMOVE

EBC

ECHO

ECONOCO

ECOXGEAR

EDGE

EK

EKLIPES

EKS BRAND

EK USA

ELECTREX

ELEMENT FIRE

ELEVN

E-LINE ACCESSORIES

EMD

EMERSON

EMGO

ENDURO ENGINEERING

ENERGY ONE

ENERGY RELEASE

ENERGY SUSP.

ENGINE ICE

ENJOY MFG

EPCO

EPI

ERLANDSON

ERNST

ESI

E-TINT

EVANS

EVS

EXCESS

EXTANG

EXTREME TEAM

EXUSTAR

EZRYDE

F2P

FABCRAFT

FACTOR 55

FACTORY PRO

FASST

FEULING

FIELDSHEER

FIGURE MACHINE

FIMCO

FIREBRAND

FIREBRAND-OLD

FIRE POWER

FIRESTIK

FIRST ALERT

FIRST SHOT

FITCH

FIX-A-THRED

FIXT

FLASH2PASS

Flat Out

FLIP

FLO MOTORSPORTS

FLUIDYNE

FLY RACING

FMF

FMF APPAREL

FMF VISION

FOG CITY

FORBIDDEN

FOUR TWELVE

FOX

FOX RIVER

FRAM

FREEDOM

FRENCH PRESS CUSTOMS

FROGG TOGGS

FROGZ SKIN

FRONTIER FILMS

FRP

FUELPAX

FUEL STAR

FUEL TOOL

FULLBORE

FULL THROTTLE

FULTON

FUNNELWEB

FUSION

GAERNE

GALFER

GALINDO

GAME OVER MERCH

GARDINER FILMS

GARDNERWESTCOTT

GARLAND

GARMIN

GASGACINCH

GASKET TECH.

GATE FILMS

GATES

GBC

GEARBRAKE

GEARS

GET

GIANT LOOP

GIVI

GLOBAL CASES

GLOVETACTS

GLUE TREAD

GMAX

GO CRUISE

GOGGLE GRIP

GOKI

GOLAN

GOLD BELT

GOODRIDGE

GORILLA

GRABBER

GRAB ON

GRANT

GREEN LIGHT TRIGGERS

GRIP-N-RIP

GROTE

GRUNGE BRUSH

GUERRILLA CABLES

HABER

HAMMERHEAD

HANDY

HARDBAGGER

HARDDRIVE

HARDLINE

HARDSTREET

HARTMAN

HASTINGS MFG

HAWG HALTERS INC

HAYDEN

HEAROS

HEAT DEMON

HELIBARS

HELIX

HELLA MARINE

HELMET FRESH

HIFLOFILTRO

HIGH LIFTER

HIGHMARK FILMS

HIGH ROLLER

HIGHSIDER

HIGHWAY 21

HINSON

HIPER

HI-PERFORMANCE

HMF

HMK

HOFMANN DESIGNS

HOG PEN

HOG WASH

HOLESHOT

HOLTZMAN

HOMFUL

HOORAG

HOPE

HOPKINS

HOPNEL

HOPPE

HORNET

HOTBODIES

HOT CAMS

HOTDOGGER

HOT GRIPS

HOT PRODUCTS

HOT RODS

HSL

HT COMPONENTS

HT MOTO

HYDRA-HOLDER

HYDRO-TURF

HYGEAR

IBEXX

ICETREKKERS

IDEAL

IGRIP

IKAT

IMC

IMS

IN-HOUSE

INNOVATIONS

INS

INSIGHT

INTENSE

INTERPARTS

IRC

ISC

ITP

J27

JAGG

JAMES GASKETS

JCRACING

JEFFS OFF ROAD

JET PILOT

JETT

JETTRIBE

JETWORKS

J&M

JOE ROCKET

JRI SHOCKS

J&S

J STRONG

JT

JUSTSAIL

JW SPEAKER

K100

KABUTO

KAPS

KBC

KB PISTONS

KEITI

KELCH

KENDA

KENS FACTORY

KFI

KG

KICKER

KIDDE

KINGS

KINGSTAR

K&L

KLEER VU

KLOTZ

KLUBER

KMC

K&N

KNOBBYKNIFE

KODLIN USA

KOLD KUTTER

KOLPIN

KORONIS

KOSO

KOST USA

KPMI

KREEM

KRUZER KADDY

KRYPTONITE

K&S

KURYAKYN

KWIK TEK

KYB

L.A. SLEEVE

LC

LDC

LEAD-DOG

LEATHER THERAPY

LECTRONS LLC

LEFTYS

LEOVINCE

LETRIC LIGHTING CO

LICKS CYCLES

LIGHTSPEED

LIL LIGHTNING

LINDBY

LIQUID IMAGE

LITTLE HOTTIES

LOCK AND LOAD

LOCKSTRAPS

LP

LUCAS

LUNATI

LUSTER LACE

LYNDALL BRAKES

LYNX HOOKS

M2R

MAC

MACK STUDS

MAGELLAN

MAGNAFLOW

MAGURA

MAIER

MAK-IT MFG

MALLORY

MAMMUT

MARSHALLS

MASQUE

MASTER

MASTER LOCK

MAVERICK FISH HUNTER

MAXIMA

MAXXIS

MBRP

MC BAGGERS

MCCUFF

MECHANICS

MECHANIX

METRO VAC

METZELER

MICHELIN

MIDWEST CAN

MIGHTY MINI

MIKA METALS

MIKUNI

MILLTOWN FAB

MISCELLANEOUS

MISSING LINK

MMP

MODQUAD

MOGO PARTS

MONKEY GRIP

MONT VERT

MOROSO

MORPHINE

MOST WANTED

MOTION PRO

MOTOBATT

MOTO-GATE

MOTO HOSE

MOTOOL

MOTO POCKETS

MOTOREX

MOTO TASSINARI

MOTO TECH

MOTOTECK

MOTOTRAX

MOTOVAN

MOTOZORB

MOTUL

MOUNTAIN MOD

MSD

MTNTK

MUC-OFF

MUFFPOT

MXL

NADA

NAMURA

NAMZ CUSTOM CYCLE

NASH

NATIONAL CYCLE

NAVATLAS

NAYTHONS

NEESE

NELSON-RIGG

NEWCOMB

NEW PIG

NEW RAGE CYCLES

NEW-RAY

NEXGEN AMERICAN

NGK

NISSIN

NITERIDER

NOCO GENIUS

NO-FOG

NOMADIC

NORMA

NORREC

NO-SPILL

NOST

NO TOIL

NOVELLO

N-STYLE

NTN

NUJET

NYNE

ODI

ODYSSEY

OGIO

OLD STF

ONE EMBLEMS

ONE INDUSTRIES

ONGUARD

OPEN TRAIL

ORTOVOX

OTTP

OURY

OUTERWEARS

OXBOW GEAR LLC

P3

PARK TOOL

PARTS COMPANY INC

PATHFINDER

PATRIOT

PAUGHCO

PBI

PBS OF MERIDIAN

PCRACING

PCS

PDP

PEDROS

PEET

PERFORMANCE TOOL

PERMATEX

PHANTOM PAD

PHOENIX

PIAA

PIG SPIT

PINGEL ENT

PIRELLI

PIVOT PEGZ

PIVOT WHEELZ

PIVOT WORKS

PJ1

PLANO

PLASTEX

PLEWS/EDELMANN

PLEXUS

PMB

POD

POLISPORT

POLLY

POWERBUILT

POWERMADD

POWERTYE

PPD

PREC. BILLET

PRESTON PETTY

PRO ARMOR

PRO ARMOR SNOW

PRO CIRCUIT

PROCLEAN

PRO DESIGN

PROFI

PROFILE

PRO FILTER

PROGRESSIVE

PROGRIP

PROK

PROMAX

PRO ONE

PRO PAD

PRO SERIES

PROTECT ALL

PRO-WHEEL

PROX

PSR

PSYCHIC

PUIG

PUTCO

QUADRA

QUAD WORKS

QUANTUM

QUICKLOADER

QUICK STRAP

QUIK STEEL

RACE FACE

RACELINE

RACE TECH

RACEWERX

RACING 905

RACING BROTHERS

RALE INDUSTRIES

RAM

RAMSEY

RAPTOR

RASCAL GRAFIK

RATH RACING

RATIO RITE

RAVE X

R&D

RED BULL

REDI LITE

RED LINE

REESE

REKLUSE RACING

REMA TIP TOP

RENNEN

RENTHAL

REVARC

REVIVEX

RICKS

RICOR

RIDE-ON

RIDERLIGHT

RIFT

RIGID

RING & TOOL

RISK RACING

RIVA

RIVAL POWERSPORTS

RIVAL POWERSPORTS USA

RIZOMA

RJ SPORT

RK EXCEL

RMT

ROCKER LOCKERS

ROCKET CAMS

ROCKET EXHAUST

ROCKY MTN HRDWR

ROETIN

ROKSTRAPS

ROOKE

ROTOPAX

ROWE

ROX

RSI

RULE

RUNTONG

R.U. OUTSIDE

RUSH

RUSTY BUTCHER

RYDE FX

RYDER CLIPS

RZ MASK

S100

SABO

SADDLE TRAMP

SAFETY

SANMAK

SANTORO FABWORX

SAWICKI

SCARY FAST

SCHWALBE

SCORPION EXO

SCORPION STANDS

SCOSCHE

SCOTT

SCRIBNER

SDC

SDG COMPONENTS

SDG INNOVATIONS

SEDONA

SEER

SEIZMIK

SENA

SENSORTECH

SHINDY

SHINKO

SHIN YO

SHOCKPROS

SHOGUN

SHOK-SPOTR

SHOW CHROME

SHOW CHROME ACCESSORIES

SIGMA SHOES

SILKOLENE

SINZ

SIR SPEEDY PRINTING

SKF

SLEDNECKS

SLIME

SLIPSTREAMER

SLP

SLYDOG

SMITHTOOL

SMOOTH

SMP

SNACKERPACKERS

SNOBUNJE

SNO-SKINZ

SNOSTUFF

SNOWCLAW

SNOW X

SOCALMOTOGEAR

SO EASY RIDER

SOLAS

SOS

SP1

SP CONNECT

SPEAQUA

SPECTRO

SPEED

SPEEDLINE

SPEEDO TUNER

SPEED-WAY SHELT

SPEEDWERX

SPG

SPI

SPIDER

SPIDI

SPIKE

SPORTECH

SPORTSTUFF

SPORTVUE

SPOT

SPYKE

SSI

S&S OFFROAD

SSV WORKS

STA-BIL

STACOOL

STA-DRI

STANSPORT

STAR BRITE

STAYSTRONG

STEARNS

STEFFES

STKR

STOMPGRIP

STOMP STICKERS

Stop & Go

STRAIGHTLINE

STREAMLINE

STREETFX

STRIDER

STUD BOY

SUBMARINE

SUDCO

SULLYS

SUNLINE

SUNRINGLE

SUNSTAR

SUPERCADDY

SUPERCLAMP

SUPERCROSS

SUPER SIPHON

SUPERSPROX

SUPERTRAPP

SUPERWINCH

SURE GRIP

SURE LOAD

SWIPEEZ

SYMTEC

TAHOE FILMS

TALON

TAMER

TANGENT

TBR

TC BROS

TEAM HAWG

TECHMOUNT

TECHNICHE

TECMATE

TEKRIDER

TEKVEST

TEXA

THERMACELL

THE SPEED MERCHANT

THH

THREEBOND

TIER 1

TIGER LIGHTS

TIMBERSLED

TIME

TIRE PENZ

TIROX

TKI

TOKYO MODS

TOMS

TOP SHELF

TORCH IND.

TORCO

TOW READY

TRAIL TECH

TRAVELRITE

TRI-FLOW

TRIPLE 9

TRP

TRUCK-LITE

TRU-FLATE

TRU TENSION

TRUWE

TSUBAKI

TTI

TTS

TUBLISS

TUFF JUG

TURNAGAIN

TURTLE FUR

TWIN AIR

UCLEAR

ULTIMAX

ULTRACOOL

ULTRAGARD

UMI

UNABIKER

UNI

UNIT

UPP

USI

USI SKIS

USORI

USWE

VE

VENOM PRODUCTS

VENTURE

VENTZ

VERTEX

VESRAH

VICTOR

VISU-FILTER

VOODOO

VORTEX

VP RACING

VSI

VURB

VUVANTAGE

WAHL BROS

WALBRO

WALLINGFORDS

WARN

WD-40

WELD WHEELS

WESBAR

WEST-EAGLE

WET WOLF

WHIP IT

WHITE DOT

WILCOX

WILD 1

WILLIE & MAX

WINDEROSA

WISECO

WIZARDS

WOC

WOODYS

WORKS

WORKSHOP HERO

WORX

WPS

WRENCH RABBIT

WSM

WURTH

X2

XATP

XENA

XK GLOW

XPATV

XTC Power Products

XTRA SEAL

XTRIG

YAKTRAX

YANA SHIKI

YESS

YOSHIMURA

YUASA

ZAN

ZBROZ

ZEE LINE

ZEFAL

ZETA

ZHEJIANG ENZE VEHICLE

ZHEJIANG HENGYANG UMBRELLA

ZOOM